WinRAR software is probably not new to Windows users because it is a handy file compression and decompression application for computers. But do you know all about this application? If you are still curious about WinRAR, let find out about this application through this article.
DOWNLOAD NOW
About WinRAR
WinRAR is software for compressing and decompressing files and data developed by Yevgeny Roshal. WinRAR also had a very good formation and development process. This is reflected in the fact that it is constantly being updated. Therefore, the interface and features of the software are always improved and it is rated as the best compression and decompression software today.
A very valuable function when Download WinRAR is to provide complete restoration of data when the file is corrupted. This is the most appreciated feature by users because it is really useful in case you download many GB of data to your computer.
WinRAR has many compression modes suitable for many different purposes: such as splitting the compressed file into sections, setting a password for the compressed file, creating a self-extracting compressed file, etc. You can choose different compression level to have get optimal compression size. Alternatively, you can also set the compressed file password on WinRAR.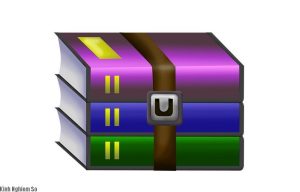 WinRAR can compress and significantly reduce the size of large files but does not affect the quality of these files; In case you have too many files to compress, you can let WinRAR perform batch compression to save time.
In addition,y ou can use WinRAR to convert compressed file formats, use passwords to protect files, encrypt files, or scan files for viruses.
DOWNLOAD NOW
Good features of WinRAR that you do not know
In addition to basic compression and decompression features, WinRAR possesses many unique features, supporting users to handle files more conveniently during use.
Choose how to compress files on WinRAR
Usually when you compress a file on WinRAR, it will default to all settings and let the process automatically take place. However, WinRAR offers us many file compression options.
Usually when you compress a file on WinRAR, it will default to all settings and let the process automatically take place. Source: pinterest.com
We proceed to compress the file with WinRAR. Then in the interface click on the General tab. The Compression method section will show you a list of options for compressing mode.
Store: Fast compression speed but large compression capacity, not suitable for large files.
Faster: The compression speed is faster than other way. The file size is quite large, not suitable for large files because it is prone to errors.
Fast: Fast compression time but relatively high file size. Also it not suitable for compressing large files.
Normal: The type of compression used often, fast or slow depending on the file size, is relatively stable, less errors occur in compressing large data files.
Good: The compression time is longer than normal but the file size is smaller than Normal mode.
Best: The longest compression time, the compressed file will have the lowest capacity, suitable for large data types to avoid errors during use.
WinRAR compresses many files at the same time
Instead of compressing each file, users can activate the compression mode of multiple files at the same time to reduce operations, saving time.
Split file with WinRAR
Usually when compressing files on WinRAR, the file size has been significantly reduced, but you can still split large files into smaller files to reduce the size, easier to share.
Set the zip file password on WinRAR
Adding a password to a compressed file will make it more secure when someone opens the archive, because they must have a password to perform other operations.
Create notes of WinRAR archive
In case you want to add some information to the recipient of the compressed file, you can use the note-taking tool on WinRAR immediately. The content of the note is displayed in the interface of WinRAR when opening the compressed file.
DOWNLOAD NOW
Fix the corrupted zip file on WinRAR
In the process of compressing and decompressing files on WinRAR, you may encounter some errors, unable to decompress the files affecting the job. Even on WinRAR, there is also an option to fix the corrupted zip file. WinRAR will then create a recovery file from the original corrupted zip file
Delete the original file after extracting on WinRAR
When the file is unzipped, it will retain the original file, but WinRAR has the option to automatically delete the original file after decompressing the data. Then the files are automatically deleted from the computer without you having to delete them manually.
Extract the ISO file
Not stopping there, another very interesting function of WinRAR that many people overlook is reading and extracting ISO files. If you play games often and download ISO files regularly on the Internet, this will be a utility not to be missed. Instead of having to search and install virtual drive software such as Ultra ISO, Alcohol, … now with WinRAR, everything seems to be much easier.
WinRAR can extract most ISO files. You just need to right-click on the ISO file and select Open with WinRAR and choose where to extract the process to begin.
Limit use
WinRAR software is distributed & built on a "try before you buy" model; It can be used for free for 40 days. After 40 days of installation and trial, customers must purchase a license to continue valid and legal use. License after purchase will be used permanently without renewal.
In addition, to be upgraded to the new version, it is necessary to purchase maintenance and support packages each year. Price is about 15% of the copyright price. There are about 46 languages ​​available in the Winrar application
With the above advantages, you should quickly download WinRAR, extract software to your computer to experience.