[Expert] Uses, trends, figures… What will the mobile of tomorrow look like? By Cyrille Frank
On March 13, Satellinet and The cafeteria organized a conference on the future of mobile in 5-10 years. A good overview of trends, issues and uses. One observation: the center of gravity is moving towards Asia and Africa is back in the race.
Mobile internet is one of the strongest technological movements of the past decade. A planetary phenomenon that arouses a plethora of breakthrough innovations. The speakers recalled some figures to take the measure of the phenomenon.
There is 7 billion mobile phones in the world and now more mobile users than Internet users worldwide. For Francois Thénoz, director of strategy and marketing of Orange, there is no doubt: the migration is underway!
Tablets, still uncommon (14% of French adults), however, are growing four times faster than smartphones when they launched. François Thénoz estimates that in 2015, 60% of Orange customers will be equipped with it.
More than 4 million smartphone owners French people have a tablet and 11% of internet shoppers now do it from a mobile.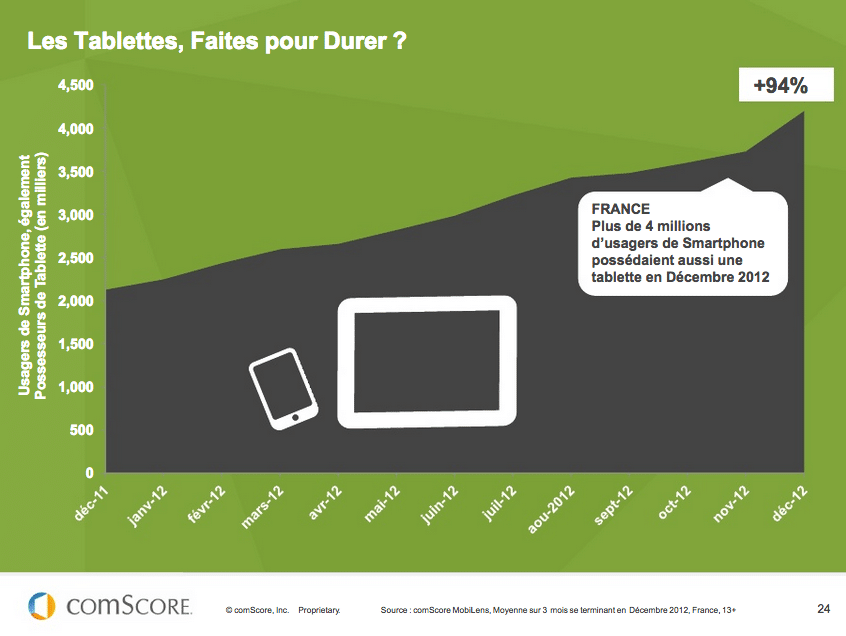 Delphine Gatignol,
commercial director of Comscore, showed
during its encrypted presentation
that mobile and tablet traffic currently only represented 7.5% of total internet traffic, the bulk still being on PC. But this traffic is growing very quickly, and it is logical since, among the new mobiles purchased, 7 out of 10 are smartphones (linked to the Internet).
Laurence Allard, sociologist, lecturer at IRCAV, reminded that the time scale between the appearance of technologies and their adoption is not the same. Uses are slow to set in, we must not look through the prism of our "early-adopters" glasses. Moreover, in terms of uses according to her, there is no linearity, but successive reinventions, adaptations and recoveries.
Thus, the old SMS now enables much more effective information and vaccination campaigns in southern countries, with real health impact on societies.
Closer to us, we think of the instant messaging that travels to social networks as an integrated conversation tool. Or to the email that was not killed by social media, and remains there first activity on mobile and tablet. We also think of traditional media whose death is regularly announced, due to competition from new media. However, television has never been watched so much (3h47 per day in France in 2011, i.e. 15 minutes more than in 2009).
As for the end of writing for the benefit of image and video, it is a myth according to Laurence Allard. A misconception that does not take into account all forms of reading not listed: texting, news or entertainment sites … She also reported the news tendency to write-image. Like its students who send each other Twitpics of the lessons via their mobile. "We are not only in the culture of the image, but in that of the image of texts" she insisted.
In addition, Laurence Allard and Delphine Gatignol confirm: the innovations and the most disruptive uses no longer come from the United States, but from Asia.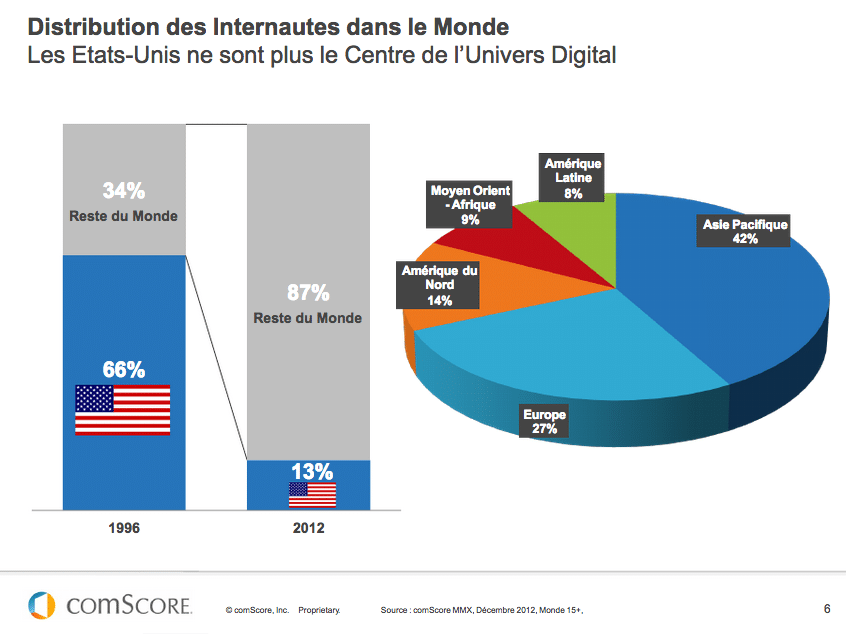 Delphine Gatignol recalled for her part that uses also change technologies. We can not agree too much, when we take a look at the web interfaces of yesteryear. Remember those drop-down menus that no one used to deploy or those complicated rubrics and sub-rubrics that have fortunately disappeared. And there is still a lot to do to adapt interfaces, such as those that add unnecessary steps and clicks, before reaching the content.
Poynter's report
published last week concerning
reading preferences of tablet users
is, from this point of view, rich in lessons.
WHAT INNOVATIONS IN THE CARTONS?
Roberto Mauro, Samsung's director of strategy and development, spoke about the most likely, some of which were presented to the last Consumer Electronic Show 2013.
– The flexible screens for mobiles and tablets are already ready, which augurs well for some interesting applications, and why not for the press, like this flexible (and disposable) newspaper imagined by Xavier Ternisien, journalist at Le Monde.
– The development of "phablets", between phones and tablets, with ever larger screens and improved multimedia functions.
An innovation that is part of the global trend of fusion of practices, adds Laurence Allard, who evokes the mix of private and public space (co-working, teleworking, BYOD "Bring Your Own Device"…). Or the erasure of the borders between private goods and collective goods, via the sharing of cars, houses …
– This fusion calls for another: the one that occurs between mobile objects and technologies, what we call "Internet of Things" (50 billion people and connected objects in 2025 according to François Thénoz. The car now offers music or video streaming, the house is regulated and monitored automatically, remotely. Your keys ring when you pass the doorstep to warn you that you have forgotten them …
– The mobile-tablet connection to take advantage of the tablet's large screen, with portable data from your smartphone.
– The transparent mobiles thanks to the Polytron technology.
– The second screens on the shell, at the back of the mobile, in particular thanks to electronic ink, or better still on the whole mobile thanks to Graphene, a new material that is both very flexible, very resistant and very conductive.
– The explosion of sensors coupled with the mobile to transform it into a giroscope, compass, scanner … But concern to miniaturize the batteries and connections.
– The amphibious mobile that resists submersion under water, or better yet, which recharges there!
– The "quantified-self" (measurements of the parameters of one's own body) and mobile health: calculation of the number of calories in the food that one eats, measurement of one's athletic performance during a race, such as Nike Fuelband.
– M-learning, which allows access to libraries on their smartphone or to online courses, democratizes access to knowledge to populations that were previously isolated.
But it is on the ecosystem of applications that Samsung wants to see the next mutation. Officially, the manufacturer perceives there a demand of the consumer anxious to be able to interconnect his different materials, whatever the brand. Unofficially, he wishes get out of dependence on Android (Google), which has taken a dangerous hegemony over the mobile OS segments.
This is the reason why Samsung is pushing for an open operating system. Like Tizen, from the Linux foundation that he supports with the telephone operators Docomo and Vofafone. A system on which should be installed on one of the future models of the Korean brand, starting this year.
CHALLENGES AND WORK IN PROGRESS
Regarding the mobile payment by NFC technology (Near Field Communication), it is not for now, so much the interests diverge between the banks and so many competing systems are numerous. From Square to Paypal via Google wallet or Apple Passbook
A failure that Laurence Allard was keen to restrict to the most developed countries. She recalled than in southern countries, social currency is developing. You can pay with your mobile and it has allowed millions of unbanked to transfer money, or access banking services. This is the case for example in Haiti, Kenya or Afghanistan.
Having reached the end of the logic of "always more", we must move on to that of "always better", she believes. It will take impose periods of disconnection and avoid giving too much personal information : Consumers are increasingly concerned about privacy.
The big challenge for François Thénoz (Orange) lies in the smart research and editorialization which will be key to navigating through this myriad of applications and content. Good news for journalists, content producers and developers.
He added the need to further perpetuate the legislative and regulatory framework and warned: "The uncertainty of the regulation can cause some delays in France". An allusion to the entry of Free as the 4th mobile operator of which Orange keeps complaining, with a certain echo on the current government
Cyrille Frank (Original article)
Sure Facebook
Photo credit: Shutterstock, millions of photos, illustrations, vectors and videos